Key Factors That You Need to Consider Before You Buy Gym Equipment in Louisiana
This entry was posted on January 8, 2013 by Fitness Expo.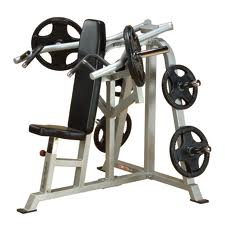 Being healthy and having the ideal figure are among the objectives of most individuals. That's why some businessmen have started setting up gyms to satisfy such needs of health-conscious individuals. Other people who prefer to have their workouts at home and who want to avoid paying fees for gym services are equipping their home with exercise equipment.
Whether you are an entrepreneur who wants to move into the fitness business or an individual who wants to lose weight and keep fit, there are things that need to be considered before you buy gym equipment.
Types of Gym Equipment
Before you buy gym equipment, you should know the types of exercise tools as well as their uses. Among the popular exercise tools are the weights, such as dumbbells and barbells. The weights can be used when someone wants to improve various muscle areas. There are also weight machines, including the leg press, mechanical shoulder press and Smith machines. Treadmills, rowing machines, elliptical trainer, exercise bikes, cross trainers, cable pull down and exercise balls are among the widely use exercise tools at gyms.
Know Your Budget
Determining the budget is another thing that a potential gym owner must bear in mind. A budget can be set by knowing the range of prices of exercise machines. The Internet can be a vast source of information on gym equipment. There are online fitness equipment stores and other websites that offer useful product reviews that can help you decide before acquiring pieces of gym equipment. Aside from that, reviews on magazines and journals that provide reviews and useful information about fitness equipment can also be read.
Assess Your Space
Make sure you have enough room to accommodate several pieces of exercise equipment before you head to the nearest fitness equipment store. It is advisable to look out for treadmills and machines that have foldable frames in order to have extra space for other exercise tools. A gym operator should also allot additional space for cleaning or repairing gym exercise equipment.
Determine the Features Before You Buy Gym Equipment
Purchasing exercise equipment may require you to shell out a considerable amount of cash. Thus, it is vital to identify the features of each exercise equipment. Most exercise machines are made of materials that have safety features. A treadmill, for instance, features an orthopedic cushioned running belt designed for comfort and reduced impact. 
Look for Reliable Fitness Equipment Stores
If you have accomplished assessing the features of life fitness equipment you want to buy, the budget and space for such machines, it is time for you to scout for a reliable gym exercise equipment store. Buy gym equipment from a store that offers a wide range of durable and high quality products. It is also important to look for a shop that can offer warranty, deliver the products to your home or gym and provide quality installation services.
If you are in search for that store, you have come to the right place. Fitness Expo Stores is a reliable gym equipment provider that you can count on. With Fitness Expo, you can buy gym equipment at reasonable prices.
Visit one of our following locations:
Metairie – (504) 887-0880
Baton Rouge – (225) 928-5751
Kenner – (504) 466-3966
Shreveport – (318) 861-1107
Jackson, MS – (601) 956-5681
E-mail:
info@fitnessexpostores.com
Call toll free:
1-800-323-1831