Octane xRide – A Seated Elliptical for Serious Exercise
This entry was posted on January 2, 2015 by Fitness Expo.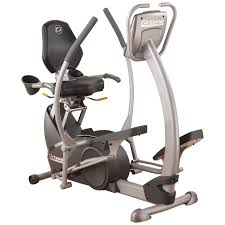 The Octane xRide series of seated elliptical exercise machines offers users a chance to take their home workouts in a more serious direction. Elliptical machines give particular advantages over more traditional exercise equipment. They can be used for simple personal development, or to train up the user's body in preparation for a variety of athletic events.
The first thing to consider is the advantages that an elliptical device offers over other types of equipment. A study done at the St. Cloud University Human Performance Lab showed that a workout on the xRide series produced a 343% increase in glute activity and a 23% increase in total calories burned compared to a similar workout on a recumbent bike. If you want to shed pounds and tone your glutes, the xRide series is a definitively superior choice over a recumbent bike. Further comparisons like these are available at Fitness Expo stores throughout the cities of Shreveport, Mandeville, Metairie, Baton Rouge, or Kenner in Louisiana, or in Jackson, Mississippi.
Another point to keep in mind is the fact that seated ellipticals offer an extremely low impact exercise. Outdoor running and treadmill exercise are examples of high impact exercise. There is no disputing the results these exercises achieve, but the repeated impact absorbed when running can cause damage to ankles, knees, hips and the lower back. Elliptical machines rotate in a motion similar to bicycling, spreading out the strain so that users aren't subjecting their bodies to these repeated hard shocks.
Finally, consider that if you're training for an event, the elliptical exercise offered by the xRide models can train you for a variety of activities. Do you need to complete a bike race? The 'cycling' motion of an elliptical will help. Are you an endurance runner? Ellipticals are great for increasing stamina and cardiovascular response without straining your body during training. Even swimmers can benefit from the extremely focused leg conditioning exercises offered by an elliptical.
An elliptical trainer from the xRide series can do wonders for your exercise routine. You will shed pounds, gain endurance, and develop excellent physical health with a superior machine like this.