Kids Gym Equipment: Helping Your Kids Grow Healthy
This entry was posted on November 5, 2013 by Fitness Expo.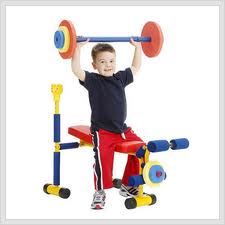 Research has shown that child obesity is higher today compared to previous years. As a matter of fact, it is at its highest than ever before. This is a terrible sign as obesity can lead to several health complications in the future such as heart ailments and lung failure. And this is particularly dangerous for kids. That being said, if you want your child to grow up healthy and fit, it is ideal to get kids gym equipment today.
But before you go out and buy the first set of dumbbells or treadmill you find, you should first be aware that choosing kids gym equipment is a lot different than buying exercise machines for adults. The functions may be the same, but the size and the color are significantly different.
Since these machines are built for kids, the first thing you should notice is that it is considerably smaller than the equipment you use. Of course, this is an obvious difference since the machine needs to be smaller to accommodate children. At the same time, they are painted in colorful patterns. This is a very important part of kids gym equipment.
Instead of the common steel, grey, or white color for adults, equipment for your children are given a more inviting color scheme so that they get this psychological feel that they are simply playing on the machine. In other words, they are made to look like toys so your kid will not be intimidated by it or they won't feel this is an obligation or work for them.
Also, when buying exercise machines for your kids, you should keep in mind the level of challenge. Again, like their toys, you should choose machines that are age-appropriate for your kid. Don't get a toddler set if you're kid is already a bit older. At the same time, don't get an exercise set for ages 5 to 10 if your kid is just 3 years old. This would hinder their ability to exercise and keep fit.
You should keep in mind that even if you find a treadmill that's designed for ages 6 and up, this doesn't automatically mean it's the right machine for your kid. Sometimes, a trampoline works better as kids gym equipment rather than a treadmill or some other common exercise equipment for adults.
In choosing the right machine, you shouldn't just base it on your opinion as well. Listen to your child on what he or she is interested in. If you get a machine that your kid doesn't like, then he won't use it at all. You have to realize that it's your kid who's going to use the machine and not you or anyone else so listen carefully.
And lastly, make sure that your kids gym equipment is comfortable. Otherwise, this will go to waste again. Best thing to do when buying this is to take your kid along with you.
Visit one of our following locations:
Metairie – (504) 887-0880
Baton Rouge – (225) 928-5751
Kenner – (504) 466-3966
Shreveport – (318) 861-1107
Mandeville – (985) 624-9990
Jackson, MS – (601) 956-5681
E-mail:
info@fitnessexpostores.com
Call toll free:
1-800-323-1831